We're over the moon to announce that we have appointed a new CEO for Theatre Hullabaloo! Ben Dickenson will be joining us in March 2023 and we can't wait to welcome him to the team. Current CEO Miranda Thain will be continuing as Artistic Producer, heading up our Artistic Programme, including new artist development and research strands funded by our Arts Council England uplifted grant (she's never allowed to leave!).
Quote from Anne Besford, Theatre Hullabaloo Chair
We're delighted that Ben will be joining us as CEO at Theatre Hullabaloo. Ben brings with him a wealth of experience in developing and leading exciting programmes with and for children, young people and families, as well as a clear commitment to ensuring everyone has access to creativity in childhood. He is the ideal candidate to lead the organisation at this exciting point in our development, when we are poised to grow our activity and impact. We look forward to him joining Miranda and the team in the spring.
A few words from Ben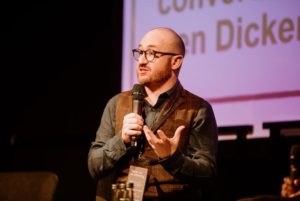 "Babies, children and young people have a right to experience creativity. By engaging them with the very best theatre, outdoor festivals and programmes of creative play we can bring them joy, inspire their imaginations, develop their talents, and fuel their futures. There is no better company to realise that vision than Theatre Hullabaloo, and no better time to be joining this fantastic organisation than right now. We have exciting plans that will grow our programmes and our impact. I can't wait to get started."
Ben's Career
Ben Dickenson has been leading programmes, initiatives and organisations for 25years. After training in theatre at Rose Bruford College and receiving an MA in film from the University of Westminster, he worked for a decade as a freelance arts and charity sector leader before taking charge of services for children, young people and families at organisations including The Children's Society, Home Group and Newcastle City Council. He has been a producer for Galaxy FM, an associate of Alphabetti Theatre since 2013, and was Executive Producer for NewcastleGateshead Cultural Venues. Along the way he has published a couple of books, won the odd award and created a top10 rated podcast series, as well as being the strategic and operational lead for the City of Dreams and Evry initiatives.