Our work with schools
Theatre Hullabaloo works with teachers across the North East to bring high quality theatre into schools to support learning and emotional and social development.
Advisory teachers help us in the development of shows and learning resources and we carry out lots of development workshops in local schools. We also support schools to achieve ArtsMark and to deliver the Arts Award.
Why work with Theatre Hullabaloo?
There's a whole host of reasons
Theatre Hullabaloo is the North East's specialist producer of theatre for children and young people and we are funded by Arts Council England to create work for children, young people and families. We have an established reputation as one of the UK's leading companies of its type and work with specialist creative teams, which often include advisory teachers or child development experts, who ensure that the work we make is suited to its target age range.
"The children were enthralled, it really grabbed their attention and appealed to their imagination."

Durham University Day Nursey
As well as touring our own shows and workshops into schools, in December 2017  we opened our purpose built venue in Darlington, The Hullabaloo. The Hullabaloo is a venue designed for children, young people and their families. it presents the best theatre specially made for young audiences, exciting new creative play installations, storytelling and much more. We are proud that The Hullabaloo is bringing arts experiences to the lives of  so many children and all our shows are supported by comprehensive learning resources which include pre and post show lesson plans and are developed with our advisory teachers to ensure our visit is properly integrated into the National Curriculum.
We also support schools to access other brilliant children's theatre in the region through our TakeOff Festival where we offer integrated travel and ticket offers to ensure that smaller rural schools are able to access cultural opportunities.
We also support schools to deliver Artsmark and Arts Award.
Visit The Hullabaloo
We will support your visit to The Hullabaloo as much as possible, so we are offering you:
Free teacher places for group bookings
Packed lunch spaces
Follow-up activities and learning resources
Ticket and transport details
Please contact Fiona Goudie-Hunter on 01325 405687 to book a show or for more information on school bookings.
"it was so beautiful, touching and fun. We're so lucky to have this theatre"

Audience Member, The Hullabaloo, 2017
Shows available to book
Christmas at The Hullabaloo - Luna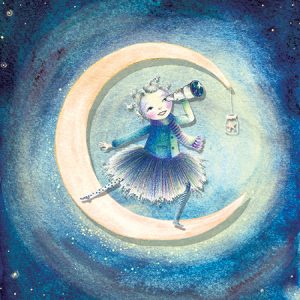 Join us this Christmas at The Hullabaloo for Luna, a magical theatre experience for 2-5 year olds and their families about friendship, the moon and being brave in the dark
School dates: 11-21 December 
Luna is bored in the sky by herself, it's lonely being the only moon. One night she spots a young boy hiding from shadows on his bedroom walls. Luna makes friends with the boy and together they go on a night-time adventure to help him overcome his fears of the dark.
Tickets: from £7. Transport offers are available.
To book please contact Fiona Goudie-Hunter on 01325 405687
This season we have a wide range of world-class theatre from the UK and abroad for schools to book.
From Little Gift, a brand new story for children aged 3 and above, to an adaptation of Oscar Wilde's The Young king from the superb Australian company, Slingsby, for ages 8+ we are sure that there is something for everyone at The Hullabaloo.
Click here for all other shows available to book at The Hullabaloo
Show Downloads
In this section there are various downloads available to assist in your visit to The Hullabaloo. These include teacher resource packs and any additional resource information that may help follow up lesson plans.
For Teachers
Teacher networking event
Teacher networking event
It was lovely meeting some of you at our last teacher networking event and we are pleased to say that the next event is on
Wednesday 19 September
4.15pm – 5.30pm
Join us to hear about upcoming plans and opportunities to get your school involved and programme information. For more information or to book your space please contact Sarah Churlish on 01325 405685
For teachers to book
We have a range of workshops and CPD sessions for you to book.
Please click on the link below for more information or to discuss this further please contact Sarah Churlish on 01325 405 685
New for Spring 2019 – Work with Punchdrunk theatre company in your school.
A Small Tale: a teacher led adventure is a Punchdrunk Enrichment project for primary schools (years 1-4) led by a teacher in the classroom. It aims to inspire and develop imaginative teaching practices for literacy; placing the teacher at the centre of the creativity.
Join us at The Teacher Networking Event on 19 September for full information or contact Sarah Churlish on 01325 405 685
Current CPD sessions & Workshops
More on Punchdrunk: A Small Tale
Partner Schools Scheme
We are delighted to announce our pilot partner schools scheme. We have a range of packages for you to choose from with various price points and benefits included. Please see below for details.
We will be working with local schools in the area to work together on:
priority booking and discounts
Teacher CPD
Workshops and other creative opportunities
Free and exclusive use of the Gillian Dickinson Creative Play Space
One-to-One creative consultation with your School Improvement Plan
If you would like to discuss this in more detail, please contact Sarah Churlish on 01325 405685.
Click here for more information on Partner Schools Schemes