9th November 2024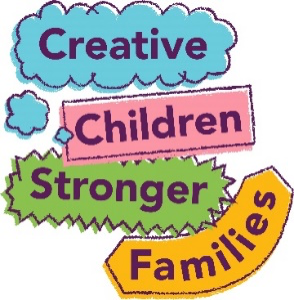 On the 9th November 2023, leaders from arts, health, early years, and local government sectors joined politicians, policy makers and academics at the Creative Children, Stronger Families national forum. Over 100 delegates came to hear about new research, discuss the importance of creativity and play to family wellbeing, and consider how we can scale and spread Theatre Hullabaloo's Let's Play programme.
Thank you to everyone who came along, it was a pleasure talking with you.
You told us about the difficulties many families are facing right now – financial hardship, rises in post-natal depression, delays in childhood development, speech and language degradation, decreasing school readiness. Like you, we want to help families overcome these challenges and see children thrive in their first 1001 critical days.
Theatre Hullabaloo is delighted to have created a space for genuine cross-sector discussion about new ways to achieve that shared ambition. Despite the worrying trends we are all observing, the forum was full of smiles, excited conversation, fresh thinking, new relationships, and hope. Why? Because, together, we can imagine a different future.
One where strategies and practices join up, and where programmes of creative play help transform outcomes for families and children. The forum took one model – Theatre Hullabaloo's socially prescribed creative play programme – as a case study, drawing on research by York St John University and the British Academy to show how a low-cost high-value creative intervention can reduce depression, stimulate development, foster attachments, and improve familial health.
But the discussion didn't stop there. It ranged across a suite of creative offers and possibilities and brought an alliance of like minds together on a journey towards the launch of a National Centre for Children's Creativity.
As well as those mentioned above there were contributions from Darlington Borough Council, Arts Council England, the Durham Commission on Creativity in Education, Tees Valley Combined Authority, the National Academy of Social Prescribing, University College London, Northumbria University and more. As well as hopeful smiles, quite a few people took away shiny new Baby Play Packs and proposals for new collaborations.
Check out our short film that captures the feel and key messages of the event:
""This should be the next vaccination programme. Every child gets their jabs, because we accept it is good for the health of the family. Creative Play should be seen the same way". "

Director of Transformation, NHS Hospital Trust
""This is low cost, high value. If we don't scale and spread creative interventions like this we are failing children and parents, in a time when things are really tough for them. If we do, we will save money and change lives." "

Emeritus Professor, Public Health.
What happens next?
"This is where you come in – start the conversation." Primary Investigator, Durham Commission on Creativity in Education
"Creativity isn't a nice add on, it is essential." Policy Lead, National Academy for Social Prescribing
"If you are a policy maker, spread the word." Leader of Darlington Council.
The first step is to share some information and resources. Here they are. Please do share them with your contacts and networks. You now have:
the film shown at the event about the Let's Play programme –

link here

.

a copy of Lisette Auton's spoken word essay recording the conversations and themes from on the day – download below.
a PDF of the delegate pack including research findings and case studies – download below.
Once you have had a chance to look at these, and pass them on, there are a number of options to keep the discussion going and get involved in what happens next. You can:
• be a partner in the development of the National Centre for Children's Creativity
• join our growing community of researchers and academic partners, sharing learning and insight
• talk to us about offering Baby Play Packs to families to simulate home-based creative play, learning and wellbeing
• help us scale or spread the Let's Play model to help new locations and families benefit
• talk to us about Place to Play – a place based model bringing the full suite of creative play offers to communities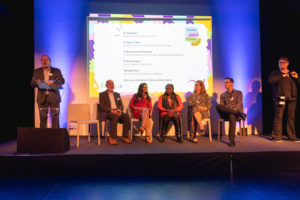 Complete a short poll here to tell us what you would like to be involved in most: View/vote in browser. This will help us decided which next steps to focus on. Or email us:
• for all the above, including the National Centre development email bendickenson@theatrehullabaloo.org.uk
• for research enquiries only email paigedavis@theatrehullabaloo.org.uk
• for artist enquiries, or Let's Play referral questions, email mirandathain@theatrehullabaloo.org.uk
• for information on Place to Play developments happening right now in the South Tees area email chloestott@theatrehullabaloo.org.uk
We like to talk and we are keen to work with you, so drop us a line. Anytime.
Together, we have started a new journey. Our destination is a world where creative play is part of every childhood. Where collaborations between the sectors help children and their carers access a suite of creative offers that improve the health, learning, development, and family attachments.
We are excited to be on that journey with you.
Lisette Auton's spoken word essay
Lisette's fantastic lyrical essay recording the conversations and themes from on the day.
Delegate Pack
A PDF of the delegate pack including research findings and case studies.