Olivia, director of Spirits of the Sea, tells us a little bit more about herself and the show.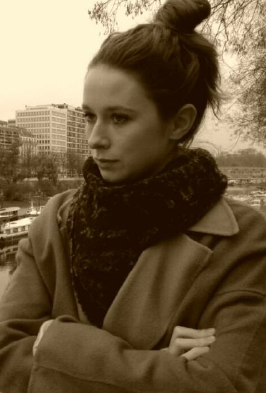 Can you tell us a little about yourself and your vision for Spirits of the Sea?
I'm a theatre director and playwright, I make work for young people as well as their adults, often with my company ivo theatre, or as a freelancer. Spirits of the Sea is a project that is very dear to me, having started conversations about it with Miranda and Chris almost 5 years ago. Now that it is a living, breathing production what I hope it gives an audience is a real feeling of having been transported to another place, both geographically (to a mariner's hut on the North East coast), and imaginatively (to the realm of mystical story telling where time becomes elastic). 
What is your favourite part of the show and your favourite thing about being a part of it?
That's a tough question as there are so many details in the show that I adore! I love the interactivity of the set (the brilliant Bek Palmer's creation) where hidden parts of the walls or furniture come to form important characters in the story telling. My favourite thing about being part of the show is working collaboratively with our cast and creative team. They are all so open and generous that there's a real environment of exchange and adventure whilst pursuing the best way to tell this story, and that's a joy to be in the midst of.
What can children and their grown-ups expect to experience with Spirits of the Sea and what message will they take away from it?
You can expect an immersive encounter through which you will be whisked away to the coast and then whisked back in time to dive into a rich story about our shared human struggle to manage our anxieties (with plenty of music, puppetry and poetic storytelling along the way). The message I hope audiences will take away is that one of the things that unites us all is that; we all have fears, and that there is no shame is sharing the things that worry us. In fact, we can find beautiful and expressive outlets for our worries that others can benefit from and even enjoy.
What was your first theatre experience as a child?
Hard to pin point the first one but I was lucky enough to spend a LOT of time at the Unicorn theatre in London as a child and just devoured whatever was on there. One of my earliest theatre memories was seeing 'The Lion the Witch and the Wardrobe' (my absolute favourite book as a child). The appearance of Aslan was so realistic I leapt up from my seat in terror! It was all so enchanting that I spent the weeks that followed walking in and out of my wardrobe waiting for Narnia to appear. I'm still trying…
Spirits of the Sea comes to The Hullabaloo this Saturday 15 June, and will then tour with schools performances across the Tees Valley 2 – 19 July.
Spirits of the Sea is a Great Place Tees Valley project.